Website Designs for Small Businesses and Nonprofit Organizations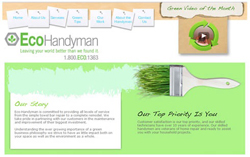 Creativity Speaks Volumes
Aesthetics are a subjective thing, but everyone knows what looks good and what does not. Professional designs are rare nowadays, which is why it can set your company apart from your competition. Most businesses use site templates that are bought and sold like commodities, but they are rarely customized. Templates look plain, old, boring, and used. Professional custom website designs are appreciated.
Trust is given. A site visitor will research deeper into your custom, professionally designed site. Like a well-tailored suit, it is respected.
(Notice the paintbrush has bristles made of blades of grass.)
Creative Says: This company is different. This company cares about their image. Your site visitors will choose YOU over the competition.
What Does Design Say About Your Company?
As a small business owner, your responsibility is to receive value and return on investment from all of your marketing channels. Short-sighted business owners cut corners when it comes to their website design and development. Design is intangible unless it is measured. When customers and potential customers are asked, "Would you buy from this company?" The value of design becomes obvious. Poor design costs companies money - period.
"Design adds value faster than it adds costs." ~ Joel Spolsk (Creator of Trello)
Custom, quality designs MAKE companies MONEY every time. Visitors to your site decide within 3 seconds of viewing a homepage if they will do business with your company. Few business owners review the number of visitors that leave the site almost immediately (it's called bounce rate). Every time someone leaves the site, your competitors likely gained their business.
Benefits of Professional Designers Creating Custom Business Websites
Custom Designs in 10 Days

Huge design agencies take months to create custom designs. They make their clients wait a long time to make it appear as if the work is arduous. They must justify the huge expense and it wouldn't make sense if they turned over a $50,000 design in 2 weeks, right? Individuals that use design templates take weeks to rehash the same old design used by hundreds of people and businesses. The same look and feel never differentiates your business from the competition. However, we can have a professional, one-of-a-kind design ready for your review and approval within 10 days.

Long-Term Savings

Good design has longevity. A professional custom design will outlast those cheap templates that look antiquated within a few years. Occasional design changes or additions can be made easily by the same people that created it. When your company grows, your designs can be integrated into apps, social media, and other 3rd party website tools. Your designers have the raw files, so changes and edits are easy.

Quality Work - The First Time

Have you ever had to make changes to a website design that was "almost done right"? Our designers are artists that take pride in their creation. When your custom website is approved, it is an expression of their creativity and business savvy. Artists take pride in their work - it is not just another site, it is their portfolio. We do not use designers fresh out of high school or college. We have professionals with more than 10 years of experience using state-of-the-art software to create an aesthetic appearance that makes your visitors want to do business with you.

Discover What Is Possible

Few people can articulate what a good design is, but everyone knows what it looks like when they see it. Professional designers listen first. Professional designers hear your business goals, the mission, understand the customer, and conduct research on your competition to ensure your site is better than expected by the customer and more beautiful than you imagined. We bring your vision to life even though you may not have been able to describe it. That is what a professional designer brings to the table.

You Will Be Outstanding and Remarkable

Customer Loyalty does not just happen by accident. While everyone else is doing it as cheaply as they can, you can have a design that is best-in-class. You will stand out from the crowd. The quality of your site can be a reflection of the care, effort, work, frustration, freedom, and love of your creation. Your website design is as important as every other aspect of your business. Your website design, to your site visitors, is a representation of how you do business. Be Outstanding and Remarkable.

First Impressions

Harvey MacKay once said, "You only get one chance to make a good first impression, and yours may be in the hands of the receptionist."

A professional design will give your business the credibility and trust to earn a chance of doing business with a new person or client. Your business may provide the highest value of all your competitors, but if your site doesn't demonstrate that differentiation, site visitors will choose your competition.

Be Memorable

How do you want your business to be remembered? It is as simple as that.

More Visitors That Stay on The Site = More Business

Are you selling products or services? Good design will compel a person to investigate further into the site by reviewing products, prices, shipping information, and more. A beautiful, professional, and creative design will entice a person to call, email, or subscribe. When visitors see your site, they make a judgment in 3 seconds. You have 3 seconds! Decide today if you want to keep them. A professional custom design will pay for itself by enticing visitors to stay first, then buy, subscribe, register, call, or visit.
We have a team of designers with 10+ years of custom design experience including small local businesses, large non-profit organizations, national insurance companies, e-commerce sites, and more. Call Today at (312) 975-9345
Before and After Pictures of New Site Designs