Digital Marketing and Website Project Management
About Lou Storiale
A dynamic and results-driven entrepreneur whose dedication and commitment to his clients are unparalleled in the industry.
Lou has researched and applied search engine optimization techniques since 2001. Recently, Lou finished writing a book on natural language processing for SEO called Sizzle: Revolutionizing E-commerce, and created a search engine optimization strategy from 2007-2013 that was responsible for taking 100% of his SEO clients to Google's first page.
Resume: MS Word Format
Recent Website & Marketing Projects: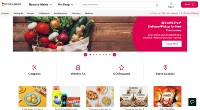 Stop&Shop: A multi-billion dollar grocery store with hundreds of brick and mortar stores near New York. Lou conducted technical seo and consulting to Directors and Marketing managers including site audits, on-page recommendations, site analytics using data studio, managed vendors, consulted with YEXT, usability heuristics, created 4-phase seo project plan to ensure white-hat seo strategies were executed. Session increased by more than 150%, Visibility increased by 350%, Organic Search Revenue increased by more than 40%.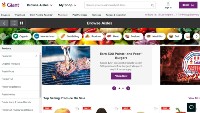 Giant Food: A multi-billion dollar grocery store in the eastern United States has more than 10,000 brands, e-commerce pages, recipes, store location pages, and more. Lou conducted seo services including enterprise seo during and after a major site migration to a custom e-commerce platform. This site has more than 50K pages including static HTML, single-page app JavaScript, informational content, recipes, 20K e-commerce pages and more. Visibility increased 540% and Organic Revenue increased 220%.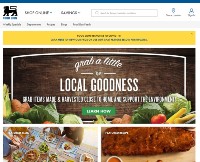 Food Lion: Food Lion has over 1,100 grocery store locations across the east coast. Lou conducted SEO services, reporting, analytics, usability heuristic evaluations and site audits since July, 2020. Lou was also accountable for working with YEXT to ensure 1,110+ location data was updated daily, weekly, and monthly. Usability and SEO content consulting was provided on local pages, which was crucial to management decisions during site migration to Prism e-commerce platform.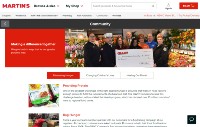 Martins Foods: Lou Storiale conducted website seo audits, seo analytics, site audits, c-level reporting, and a 4-phase seo projec to enhance the site's visiblity and organic search revenue. Site gained 1,500% visibility increase during phase 1. Organic revenue increased by 160% Y/Y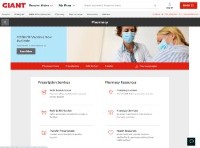 Giant Food Stores: A subsidiary of The Giant Company, Lou conducted c-level monthly and quarterly reporting, created comprehensive seo strategies to improve organic search. Lou helped increase the visiblity more than 610% and organic search revenue by more than 40%.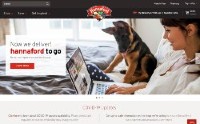 Hannaford: Saved Hannaford more than $1.7M dollars after catastrophic site migration in August, 2019. Consulted with Oracle (vendor) to solve geo-location app error, which led to recrawl and reindex. Wrote e-commerce content with internal linking and text decoration, title tags and meta descriptions. Consulted with digital marketing management on organic search strategy, conducted technical SEO audits, became certified in BrightEdge, and much more.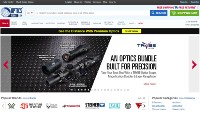 OpticsPlanet
Lou Storiale conducted enterprise SEO, natural language processing, site audits, on-page optimization, 10x content writing, usability heuristic evaluations, seo training, and much more. This website earned more than $100M more dollars than was possible prior to Lou's contributions, hard work, and innovative techniques.
Lou was instrumental in helping reduce the use of spinner text and instead began to replace it with smart spinners using specification driven content. Lou trained programmers, content writers, and merchandisers on white-hat SEO which helped to earn this company the most revenue of its existence since 1999.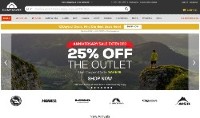 Campsaver: Managed the seo content migration while Campsaver moved from Magento to a custom e-commerce platform. Conducted seo statistical analysis, recommended content changes after migration to adhere to rigorous MAP pricing regulations and Google best practices.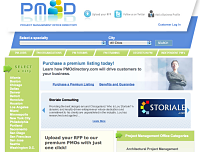 PMO Directory: The best and most comprehensive project management office directory for architectural, marketing, construction, IT software and hardware, pharmaceutical and general management consulting project management. This directory was live for 1 year before being bought out after producing first page placement for nearly every city, state, and business category.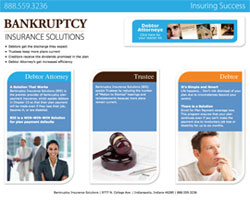 Bankruptcy Insurance Solutions : The first company to offer insurance for filers of chapter 13 bankruptcy providing protection against loss of work due to work-related injury, strikes or lay-offs. This website was built to allow our client to create a state-specific site within 5 minutes without the need for additional development time, programming, marketing or design.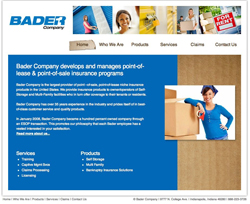 Bader Company : The largest insurance company offering point-of-sale self-storage insurance, renters insurance, ATM insurance, and more.
We created a new and improved website design giving Bader Company the ability to expand their services offered to clients and new customers. This website achieved Google first page results in 6 weeks.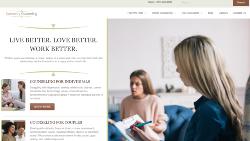 Symmetry Counseling: Lou Storiale conducted search engine optimization services for 6 months, created dozens of service pages in collaboration with the owner.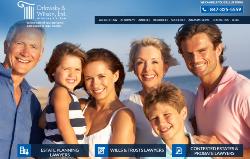 Orlowsky Wilson: Lou Storiale conducted search engine optimization services for this law firm website specializing in trusts. Lou created 15 location/service pages that still rank on Google's first page after 10+ years.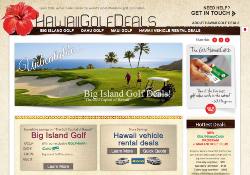 Hawaii Golf Deals: Lou collaborated with the designer and programmer of this beautiful site to ensure it was the number 1 website for Hawaii Golf in the World.
This site is a multi-lingual site that has been in business since 1994. Lou worked with the designer to ensure the design, images, and css worked in collaboration with the optimization needed to rank in the top 3 for hundreds of keyword phrases.
Lou worked with the owner and designer for more than a year. Great people!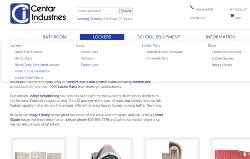 Centar Industries: Lou wrote 100 pages of content using internal linking and text decoration which improved the visibility by more than 400% in 6 weeks.
Lou coached and trained the programmers to create natural language, function-driven content to produce unique, specific, and updatable content on the page ad copy and page content. Lou also conducted Google Paid Ads and cleaned up and improve the performance of PPC advertising.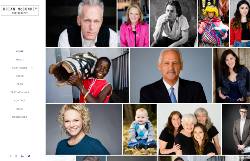 Brian McConkey Photography Studio: Lou worked in collaboration with the owner for more than 6 years with minor seo services, though most of the written content on the site was written by Lou from 2013-2019, the site ranked in the top 3 for many years.
After a redesign by another company, Lou fixed a few programming errors in collaboration with the designer and programmer.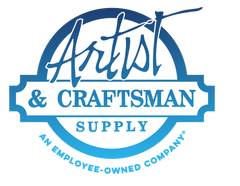 Artist-Craftsman Supply: This nationally known arts and crafts business hired Lou for local seo services.
Over the course of several months Lou improved the taxonomy and local pages to ensure Artist Craftsman Supply Company ranked in the top 3 positions for [city] plus hundreds of keyword phrases. This was before Google My Business became popular with proximity algorithms. These results happened within 8 weeks after the launch of more than 50 pages.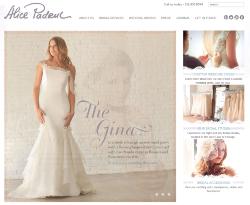 Alice Padrul Wedding Dresses: An award-winning custom wedding dress shop in the heart of Chicago has been a staple for more than 30 years.
Lou not only helped Alice Padrul earn and maintain first page results for Chicago Wedding Dresses and dozens of other high value keyword phrases, but when they hired a designer to make over their website design, Lou worked with the designer and programmer to ensure SEO, Design, and Programming worked in tandem to create a beautiful and results-producing site.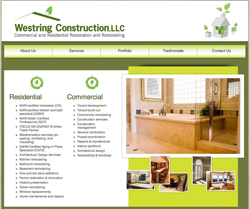 Westring Construction A construction company in Madison Wisconsin, We redesigned the website and gave it a professional look, a new logo and earned the trust of an excellent client.
This site achieved Google First Page Results in 3 weeks.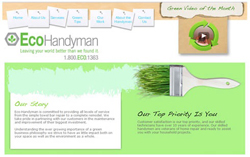 Eco-Handyman The most creative handyman and construction website in the United States. This site reached Google's first page in 3 weeks.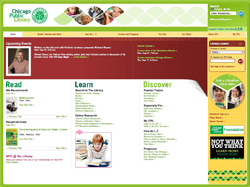 Chicago Public Library: the largest public library in the world, Lou Storiale managed the CPL content management system, updates, dynamic content, and served as Millennium Park digital collections project manager.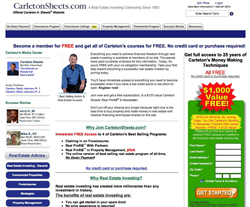 Professional Education Institute, one of the largest direct marketing companies in the United States. PEI, Inc. owns several popular brands including coaching for 7 Habits of Highly Effective People, Rich Dad Poor Dad by Robert Kiyosaki, and more
Lou worked as design leader, website project manager, usability specialist, information architect, and adviced the search engine optimization manager on white-hat SEO techniques in order to launch this website within 9 weeks. This site acheived Google First Page Results before the new site even launched (3 weeks) and tripled online sales in the first week.
Website & Marketing Projects with Non-Profit Organizations and Associations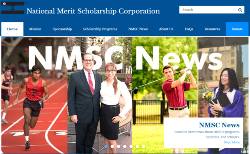 National Merit Scholarship Corp: A prestigious company in Evanston Illinois leads the way when it comes to scholarships in the U.S.
Lou worked briefly as the project manager accountable for the site migration in 2014. NMSC made several business decisions associated with public relations which delayed the project, but it was great to work with such a prestigious institution with such pride in their work and respect for students all over the country.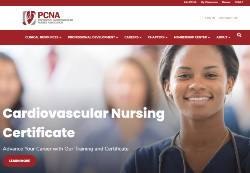 The Preventive Cardio Vascular Nurses Association
A Vanguard Technology project, Lou worked as the website project manager in the migration to Sitefinity content management system, single sign-on technology integrating with several 3rd party sites, and worked with the content management team to ensure appropriate content was migrated easily.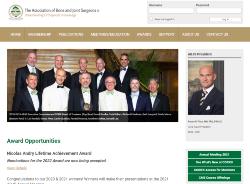 The Association of Bone & Joint Surgeons
Lou worked in collaboration with the owners of ABJS to ensure a website redesign and migration to SiteFinity launched within 6 months. This included single sign-on technology integrating with several 3rd party Association Management Services.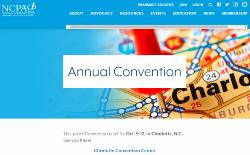 Pharmacist E-Link
Founded in 1898, the National Community Pharmacists Association is the voice for independent pharmacy, representing 21,000 pharmacies and employing more than 250,000 individuals nationwide.
Lou worked in collaboration with the marketing team at NCPA to ensure a website redesign and migration to SiteFinity launched within 4 months. This included single sign-on technology integrating with several 3rd party Association Management Services.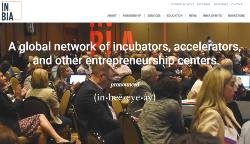 International Business Innovation Association
InBIA is a global nonprofit organization that has welcomed and supported entrepreneurial organizations for over 30 years. Serving a diverse group of entrepreneurship centers, program managers, directors, and policymakers, we help guide, mentor, and develop sustainable entrepreneur support programs in every industry and demographic around the globe.
Lou worked in collaboration with the marketing team at InBIA to ensure a website redesign and migration to SiteFinity launched within 6 months. This included single sign-on technology integrating with several 3rd party Association Management Services.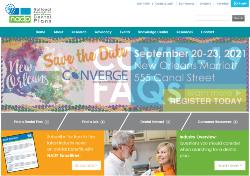 National Association of Dental Plans (NADP)
National Association of Dental Plans (NADP) is the representative and recognized resource of the dental benefits industry. NADP is the only national trade organization that includes the full spectrum of dental benefits companies operating in the United States.
Lou worked in collaboration with the marketing team at InBIA to ensure a website redesign and migration to SiteFinity launched within 6 months. This included single sign-on technology integrating with several 3rd party Association Management Services.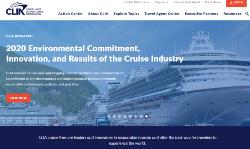 Cruise Line International Association (CLIA)
CLIA is the world's largest cruise industry trade association, providing a unified voice and leading authority of the global cruise community.
Lou worked successfully, hand-in-glove, with the CLIA team, Executive Director, marketing director, and many other committed team-members to fix a major website issue with the company's site while migrating the site to Sitefinity. CLIA is full of highly committed experts in the travel industry.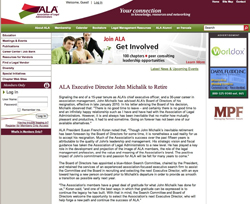 Association of Legal Administrators: Managed a department accountable for 5 websites in a multi-project environment including an Aqualogic Portal. Managed and participated in the overhaul of alanet.org, a 600+ page site in 8 weeks and launched 1 day early. Conducted extremely comprehensive usability study and created new user-friendly e-commerce registration forms for event registrations.
Annual Conference site visits increased by 156% among many other increases in website statistics.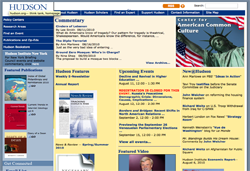 Hudson Institute: This site won the Gold Award for excellent design and functionality by the American Association of Webmasters.
Lou Storiale served as project portfolio manager, information architect and usability specialist from 2001-2007. Lou performed all content management, search engine optimization, staff training, usability and information architecture. Managed the bookstore and merchant accounts including the creation of board reports and statistical analysis. Created and managed all internet marketing and email campaigns.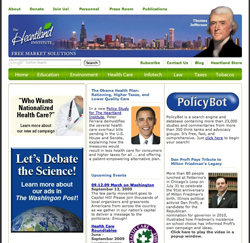 Heartland Institute: A nationally known and respected think tank and research organization, Lou Storiale conducted a comprehensive usability study for Heartland Institute. This usability study led the organization to a successful redesign of their website launched in 2008. User-testing, member questionnaires, staff questionnaire and heuristic evaluations were conducted including an overhaul of the internal search functionality.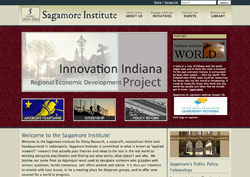 Sagamore Institute: From 2003-2007, Storiale Consulting Group worked as the organization's project portfolio manager and conducted all website initiatives for Sagamore Institute including marketing contests, content management, usability, information architecture, content manager for Spanish translations, tracking applications, and knowledge management systems. In 2008, Lou Storiale conducted a comprehensive usability and heuristic evaluation that helped lead the organization to a new design in 2009.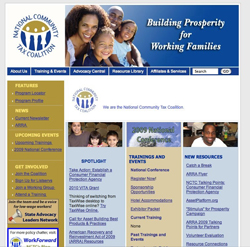 Center on Economic Progress: This site has over 10,000 publications including articles, tax law updates, tips and more. Lou Storiale re-organized the entire navigation and revitatized the site with a new design using world-class usability and information architecture standards. This site was supposed to be temporary, lasting only nine months. The site remained for three additional years, however, the new navagation and information architecture is still being used today.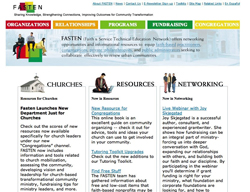 FASTEN: Faith and Services Technical Education Network: This website earned the Gold-Standard award for its functionality, content, usability and service by the American Association of Webmasters.
Lou Storiale managed this site from 2003-2006. As a consultant, Lou served as chief information architect on new content and usability specialist. Massive content uploading was involved for 18 months with 25% of the content translated into Spanish. Multiple web-based marketing campaigns were created including Google Adwords, government funded online contest (post Hurricane Katrina), mass email and and newsletter campaigns.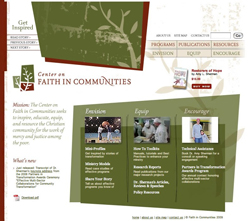 Center on Faith in Communities: Lou Storiale conducted html programming, usability and information architecture, e-commerce management and content management from 2003-2006.
Lou Storiale was project manager and trainer for ask-the expert applications, content management system and tracking databases. In addition, Storiale served as Web site advisor to the Director, Amy Sherman, PhD. Lou Storiale also completed extensive search engine optimization for the Center on Faith in Communities in June, 2009.
Online Learning & Instructional Design
Lou created 4 accredited online courses for doctors, nurses, and clinicians in the pharmaceutical education field (before online learning was popular). Comprehensive course content modules written by expert faculty from industry, FDA, and academia and most courses are available continuing education credit. Lou conducted instructional design, interactive JavaScript and Flash programming, worked with the BlackBoard LMS, and collaborated with MDs, PhDs, and other medical professionals to ensure top-quality courses that have been accredited by CME and Virginia Nurses Association. Distance Education Courses by PERI, Inc.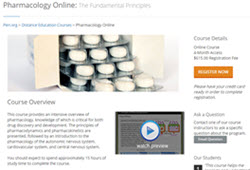 Introduction to Drug Development (Pharmacology Basics)
This course provides an intensive overview of pharmacology, knowledge of which is critical for both drug discovery and development. The principles of pharmacodynamics and pharmacokinetics are presented, followed by an introduction to the pharmacology of the autonomic nervous system, cardiovascular system, and central nervous system.
Lou worked with MDs and PhDs in the development of this online course from 2000-2001. Lou conducted Flash programming for interactive quizzes, instructional design, JavaScript implementation, and BlackBoard Learning Management System. This course has been sold for more than 20 years.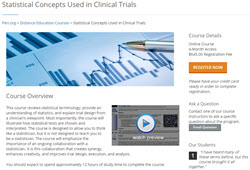 Statistics in Drug Development
This course reviews statistical terminology, provide an understanding of statistics, and explain trial design from a clinician's viewpoint. Most importantly, the course will illustrate how statistical tests are chosen and interpreted.
Lou worked with MDs and PhDs in the development of this online course from 2000-2001. Lou conducted Flash programming for interactive quizzes, instructional design, JavaScript implementation, and BlackBoard Learning Management System. This course has been sold for more than 20 years.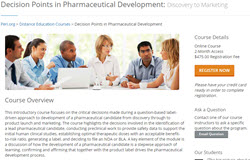 Decision Points in Drug Development
This introductory web-based module focuses on the critical decisions that are made throughout the development of a new chemical entity as the process evolves from discovery to first in humans and ultimately to launch.
Lou worked with MDs and PhDs in the development of this online course from 2000-2001. Lou conducted Flash programming for interactive quizzes, instructional design, JavaScript implementation, and BlackBoard Learning Management System. This course has been sold for more than 20 years.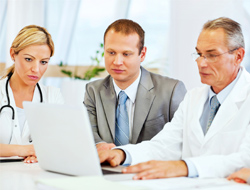 Clinical Monitoring and Site Management
The goal of this course is to provide a practical orientation to site management and monitoring of clinical studies. The course provides a comprehensive overview of clinical monitoring in the context of the overall drug development process.
Lou worked with MDs and PhDs in the development of this online course from 2000-2001. Lou conducted Flash programming for interactive quizzes, instructional design, JavaScript implementation, and BlackBoard Learning Management System. This course has been sold for more than 20 years.
Lou Storiale has also assisted numerous start-up companies, individuals, and nonprofit organizations in developing and managing their websites migrations, overhauls, redesigns, and digital marketing strategies.
Additional Private Companies and Small Businesses
Vanguard Technologies
Friedman Partners
Kroshus Consulting
Clarity Partners
Chicago Window Tinting
The Career Bloom
BMW Discount Parts
GadgetViper
All Equipment Appraisals
1 on 1 Personal Training
Spitzer Internet Strategy Group
Virtus Creative Group
Kyoku For Men
Bidtopia
SD3 Corporation