E-commerce Search Engine Optimization Services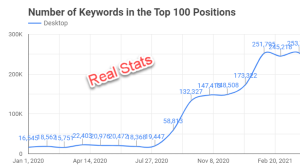 Triple Digit Percentage Increases in Weeks, Not Years.
Most companies claim their search consultants are experts, but they were in grade school when Lou Storiale began taking sites to Google's first page in 2001 - that's a fact.
We increase the visibility of your site with innovative and proven content creation and improvement, function-driven content that includes incentives, benefits, social proof, and more. Improve your page position and click-through rates in weeks, not months.
Ironclad Ad Copy to ensure searchers are compelled to click on YOUR listing. Congruent copy with unique, specific, and updated content makes it useful, so they stay on the site to register, call, or buy online.
How Does Lou Produce Massive Gains in Organic Search Revenue?
Lou Storiale has produced results greater than 1,200% increase in visibility, 100-220% increases in impressions, triple-digit percentage click increases, and organic search revenue that created more than $100M dollars over two years. All that has actually happened in the past 4 years.
1. We run through our best practices and proven strategies (see below), conduct gap analysis for your site and pages to ensure the proven techniques are reviewed, and document the progress.
2. We create a strategic plan to improve or implement these strategies over a set time period. Long agreements are sometimes required for large sites, but not always. This is why everyone should take advantage of the FREE Consultation to learn more.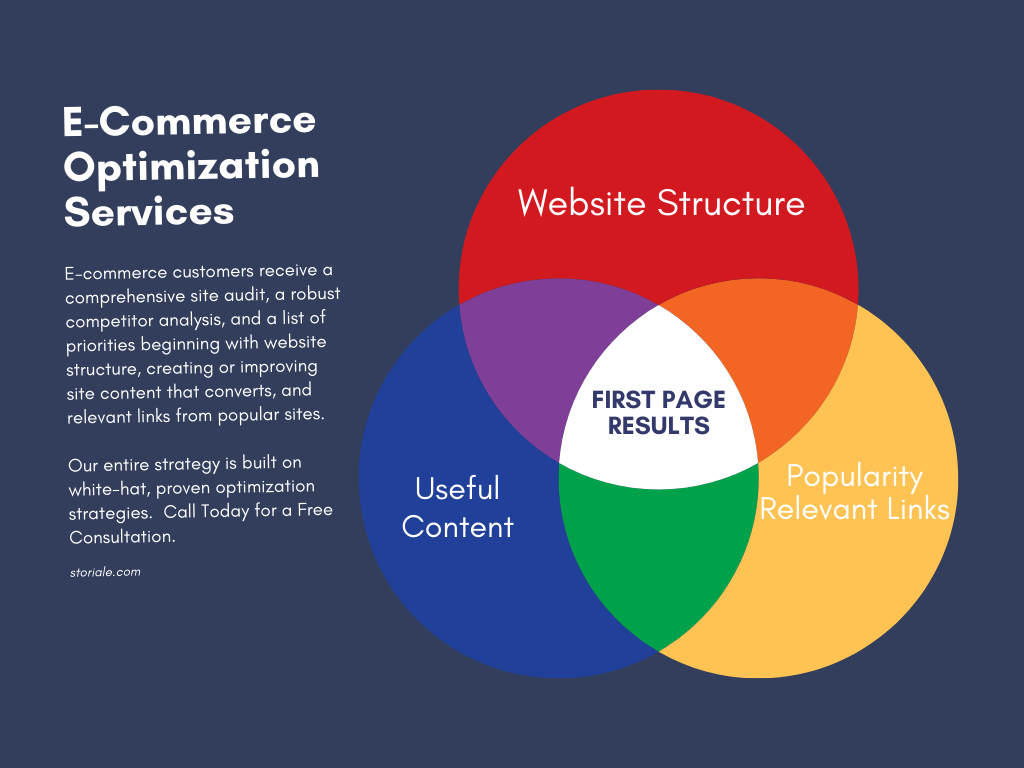 Website Structure
We always improve the one area of a site that is 100% in your control - the structure. The website structure is extremely important to high ranking website since the ability to be crawled and indexed is often determined by the programming of a site.
Few sites rank well that are not programmed well. JavaScript, in some cases, makes it difficult for Google to crawl if not programmed correctly. Analyzing the website structure and finding mistakes, errors, and opportunities is very important to improve the ranking of a site.
If a site can't be crawled or indexed, the content quality and popularity do not matter. Search engines must be able to make sense of the content and context of the site.
There are multiple areas of a site structure that can be improved including:
Crawlability
Indexability
Canonicals
Proper Redirects (301, 302, 307)
Duplicate Content (page, ad copy, h1, h2)
Length of Ad Copy
Page Speed
Error Pages (404, 500)
Ad Copy vs Page Header
Image Sizes, Image Names, and Alt Tags
Mobile-Friendly
SSL Certificates
Comprehensive Site Structure/Taxonomy
Navigation & Breadcrumbs
Internal Linking
Plus Much More
Website Content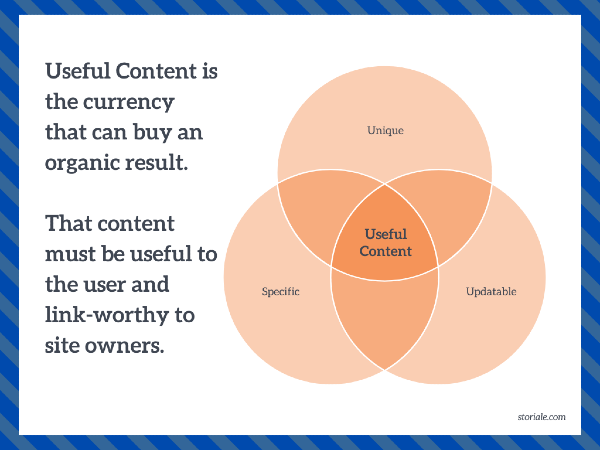 On the Internet, Useful Content is King. Take that to the bank.
Google and other search engines are slowly improving their ability to analyze the usefulness of site content. This includes algorithms like RankBrain (an artificial intelligence algorithm), the Panda Algorithm (analyzes page quality), and algorithms that determine if reviews are comprehensive and helpful to site visitors.
Content Audits and Consulting can be done to help you improve your page content so that your site ranks for more keyword phrases, pages rank higher on the search engine result pages, and we even coach programmers, merchandisers, copywriters, and executive leadership. That's what we do and is always a part of our SEO 360 Services.
The most important areas of content development:
Competitive Research
Content Strategy Consulting
Useful Content Wins The Day
Comprehensive Product Content
Descriptive and Helpful Service Information
Site Build-Out
Informational Content
10X Content | Skyscraper | Word Length
Duplicate Content (again)
Page Templates

Department Pages
Category Pages
Subcategory Pages
Brand Pages
Brand + Category Pages
Review Pages

User-Generated Content
Improving Blog Content
Bulletin Boards
Question/Answer
FAQ
Video + Transcript Content
Plus Much More
There are so many different ways to create best content on the internet for your business, but your need a strategy that works, then work the strategy.
Popularity: Google's Updated PageRank Algorithm
Website popularity is like high school popularity. It is not how rich a person is (cost of site), good-looking (site design), or how smart they are (number of pages) - it is about how many people know you (relevant links). We measure this on the web by the number of relevant links and congruent referring domains.
On the web, Google measures popularity by four things:
Number of Relevant Back Links
Number of Relevant Referring Domains
The Relevancy Of Those Links, Site, & Content Surrounding Those Links
Is the anchor text congruent with your site content?
Is the subject matter similar to yours?
The Popularity of the Sites Linking To Yours
Gaining or buying as many links to a website as possible is antiquated and could get your site throttled or outright banned. Relevant links from popular sites is the only linking building campaign that works.
What are the techniques that can gain the most and best links from popular sites?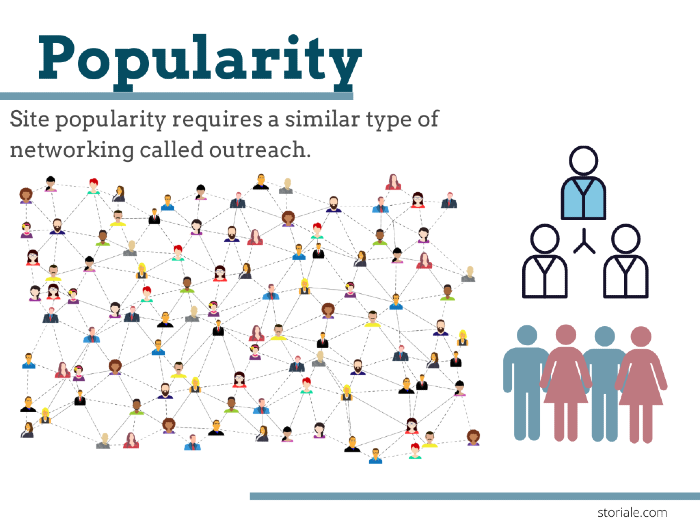 There are at least 16 different strategies to correctly build a popular site. Think about different ways to make yourself popular in High School. You might introduce yourself to others. We call that OUTREACH.
How are you going to demonstrate enough value to companies or sites so they will link to yours?
Perhaps you have something in common, perhaps you have similar content, perhaps your online tools are useful enough to compel them to link to your site. The same strategy for networking in life applies to website popularity.
Here are a few ways that Ethical Popularity Building can be achieved:
Social Media Outreach - Indirectly affects popularity
Broken Link Building
Unlinked Mentions
Actual Mentions
Reputable Directories
Competitor Conquesting
SkyScraper Technique
Ego-Bait
Guest Posting (with a link)
Brand Links/Partner Links
Press Releases (request a link to the site)
Create a Tool (people will link to it)
Internal Linking! Always Share The Love
YouTube Videos (and others) link in the description
Forum and Blog Comments (real comments)
HARO (Help a Reporter Out)
Reporters need stories and content. Help them out and they will put a link from their website content to your site
There are many, many others
Stacking all three optimization strategies is the only way to compete and beat national online competitors whether it is for e-commerce products, B2C or B2B services, digital apps, or informational content.
Call Lou Today For a Free Consultation: (312) 975-9345